Hey Look! A Coupon!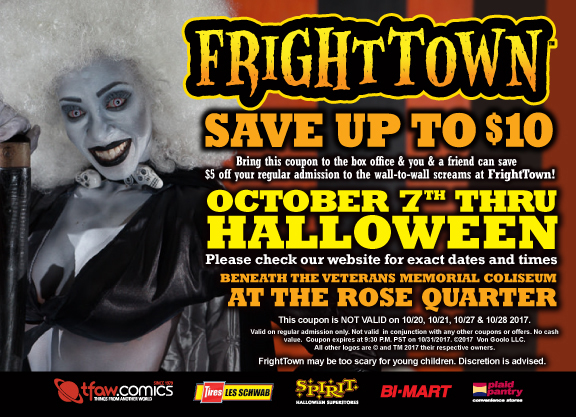 You can also head over to a participating retailer and grab a scary good coupon that will save $5 off of a regular price admission to FrightTown for you and a buddy. That's a $10 savings right there. You should be able to find FrightTown coupons at all Things From Another World stores, Bi-Mart, Plaid Pantry, Les Schwab and Spirit Halloween Superstores, as well as many other shops and restaurants in Multnomah, Washington, Clackamas and Clark counties.
For groups of 10 or more please call our group sales line at 503.963.4400 to receive a sweet group discount.
Please note that our coupons have blackout dates on our busiest nights. We do this to try and get you to come on slower nights so that you can have a more relaxed, enjoyable experience getting the piss scared out of you - and save some scratch at the same time. Please take the hint.

Things From Another World
•
Winterhawks
•
Les Schwab
•
Spirit Halloween
•
Bi-Mart
•
Plaid Pantry
---
And be sure to like us on The Evil Book Of Faces 'cuz you never know when we might a coupon, or a contest or a special announcement there. Like us and we'll love you back!